Welcome to Maginito Limited.
Maginito Limited was established by Mkango Resources Ltd (TSXV/AIM :MKA), which holds a 100% interest in Maginito, to pursue downstream green technology opportunities in the rare earths supply chain, encompassing NdFeB magnet recycling and innovative rare earth alloy, magnet and separation technologies, underpinned by offtake of sustainably sourced primary and secondary raw materials. The company's strategy is geared to accelerating growth in the electric vehicle market, wind power generation and other industries driven by decarbonisation of the economy.
Maginito holds a 42% interest in UK based short loop NdFeB magnet recycler, HyProMag Limited (www.hypromag.com), with an option to increase to 49%. HyProMag is focused on short loop NdFeB magnet recycling using a hydrogen based technology (HPMS) developed at the Magnetic Materials Group (MMG) within the University of Birmingham. HyProMag Limited holds an 80% interest in HyProMag GmbH, which is developing short loop NdFeB magnet recycling in Germany.
Pursuant to the non-binding term sheet signed with Cotec Holdings Corp. in May 2022, Mkango's interest in its subsidiary, Mkango Rare Earths UK Ltd will be transferred to Maginito. Mkango UK was established by Mkango to evaluate and develop opportunities in rare earth recycling and green technology in the UK, which includes long loop NdFeB magnet recycling via a chemical processing route. The development of long loop chemical processing of both recycled HPMS NdFeB powder and magnet swarf by Mkango UK complements the short loop HPMS process being scaled up by HyProMag, broadening the range of material that can be processed, including scrap that is not suitable for short loop magnet recycling.
Current structure: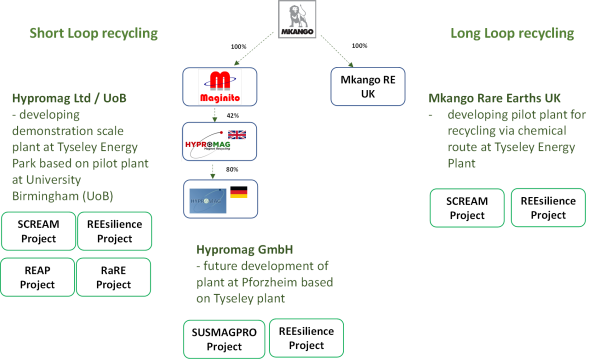 Mkango Rare Earths UK is working with HyProMag to establish long loop and short loop recycling facilities for NdFeB magnets at Tyseley Energy Park (www.tyseleyenergy.co.uk) in Birmingham to provide a sustainable solution for the supply of NdFeB magnets and alloy powders for a wide range of markets including, for example, automotive and electronics.
A number of product options are being evaluated including hydrogen decrepitated (HD) demagnetised powders suitable for magnet producers, alloy ingot re-melted from HD powders suitable for alloy feed or magnet production, anisotropic alloy powders (HDDR) for bonded magnets and sintered NdFeB magnets.
Technology development is supported by a number of Government grant funded projects in which Mkango Rare Earths UK, HyProMag Limited, HyProMag GmbH and University of Birmingham are participants: